Last modified on May 28th, 2016
Snapchat, a social messaging app with humongous fan base of 110+ Millions. You can download Snapchat alternatives for iPhone or android. Snapchat is a big threat to Whatsapp. The rivalry between snapchat and whatsapp is a universal fact. Snapchat offers several innovative features of self-destructing snaps, video calling and voice calling from android/iOS/blackberry/windows phones. You can check out snapchat alternative apps for android/iPhone. Recently, Facebook tried to buy snapchat with a $3 billion deal.However, it didn't come to fruition and they designed SlingShot as Snapchat substitute. You can now download free snapchat alternative apps to your android/Windows or blackberry Phones .
Snapchat is a Social messaging app, similar to Instagram. It lets you share Photos, Videos, Snaps to your Snapchatters. You can make use of it's weird filters and layers to add some paparazzi to your moments.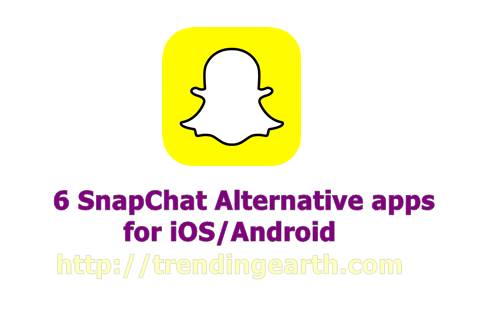 6 Snapchat alternative iPhone and Android apps
Using the alternative snapchat apps, you can get extra benefits. Unlike other social messaging apps, snapchat posts have got the feature of self-destroying. The snaps you shared with your snapchatters, have life till the recepient sees it. After that, the snaps will be deleted forever. However, there are Snapchat Clients for iPhone/android that allow you to save all your received snaps. Such Snapchat Clients include Snapcrack, Snapsaver, Quick Save, SnapHack.
You can check out Snapchat Clients to save your snaps to download the snaps.
In this Article, I present you with the Snapchat alternative apps for Android/iPhone users. Other Snapchat users on Blackberry or Windows phone can google for the snapchat-like apps.
Snapchat-Like apps for Android or iPhone/iPad
Before you can download snapchat alternatives for android/iOS , you may wish to download Snapchat latest version for Android or  iOS.
♦ Wickr – Best Snapchat alternative app
Wickr app is known for privacy and anonymity features. This Snapchat alternative app for android and iOS lets you set self-destruct timer. Your posts will be deleted after the set deadline time, once the recipient sees it. Wickr supports end-to-end encryption like Whatsapp.
Wickr assures you that it won't sell ads and don't store Snapchatters' data. This Snapchat-like app is available for android and iOS platforms.
I recommend you Wickr as the best SnapChat alternative app and its user interface looks like Instagram.
Wickr for Android       Wickr for iOS
♦ Cyber Dust app
If you want to download Snapchat alternative with high security features, then Cyber Dust is the best choice. Cyber Dust has got several security features and is second to none in protecting its users privacy. Cyber Dust notifies you if the recepient tries to take screenshot using his iPhone/android phone.
Cyberdust for Android       Cyberdust for iOS
♦ ClipChat app
Clipchat is another substitute for snapchat. This app is available in only some countries. It has a security feature which alerts you, if your post recipient tries to take screenshot of your posts. This feature is not available in Snapchat. ClipChat app has Video as its default mode. This snapchat alternative app is available for Android and iPhones.
Clipchat for iOS       Clipchat for iOS
♦ Yovo App
Yovo app serves as one of the alternatives for snapchat messaging app. Yovo has got a bad user interface, yet it has all the snapchat features included. Unlike Cyber dust and Clipchat apps , that lets you notify, if someone tries to capture your posts on Android or iPhone. This Yovo app blures the screen of the recepient, if he tries to screen-capture the post.
This Yovo technology is known to be "D-Fence technology". This feature makes Yovo app as a standard Snapchat alternative for iPhone. Yovo app is available for iPhone only. You cannot download snapchat alternative for android.
♦ Sicher
Sicher is a substitute for Snapchat messaging app. You find it easy to operate, if you are a regular snapchatter. All you have to do is to download the snapchat-like app for iPhone/iOS. After you install it on  iOS based iPhone/iPad/iPod Touch or android, you need to add your friends. Then you can start messaging with them using Sicher's end to end encryption.
Sicher for android       Sicher for iPhone/iPad/iPod Touch
♦ Slingshot
Facebook tried to acquire Snapchat for $3 million. The Snapchat founders didn't give a nod to Facebook's deal. So, Facebook developed Slingshot as an alternative to Snapchat messenger. Slingshot is available for iPhone/iPad/iPod touch only. Slingshot has good an elegant user interface. Slingshot has got all features of Snapchat, yet Slingshot has less fan base. Recently, Facebook has removed this app from iTunes and store. You cannot download snapchat alternative now.
Using Android Lollipop? Check out Problems if you don't upgrade to marshmallow.
You can also use Whatsapp as an alternative to Snapchat, if Whatsapp introduces Video Calling feature. Till then, know how you can install parallel whatsapp accounts in same android phone. Other snapchat alternatives include Slinger, Silent Text, Tiger Text apps. You can also try them as substitutes for Snapchat.
If you have any suggestions/problems, you can shoot them in comments. Let us know, if you have any other Snapchat alternatives know to you.