Last modified on August 28th, 2016
8 Pokévision alternatives to Play Pokemon Go without moving: Every Pokemon-go player wish to play the game without moving an inch from home. After the Pokevision Site stopped working, the players are looking for Pokevision like sites and apps for Android/iPhone/iPad/PC. Pocket Monsters location spoofing, Fake GPS spoofing techniques may lead to temporary or permanent ban. Yet, everyone wants to play the game or hatch Pokemon eggs without walking. Several sites like Pokevision let you find nearby pokemons without rooting or jailbreaking.
This tutorial include apps like PokeRadar, SkipLagged, PokeMesh, Go radar  and other web based pokemon tracking apps.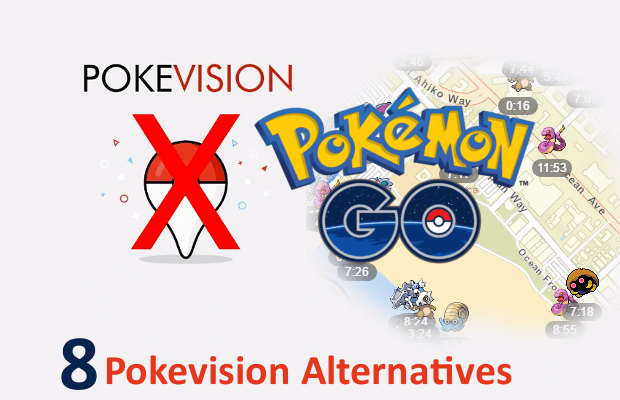 Nearby Pokemon Locator apps are being identified by Niantic and are getting banned. However, I have come across Pokevision like apps or websites. The gamers are looking for best pokemon go tips and tricks. Some people are looking for tips not to get banned by Pokemon GO. I recommend you to play the game genuinely without using apps like PokeVision, Tutuapp and PokeRadar apps. So, incubate poke eggs using incubator only, don't use cheap tricks on your iPhone/iPad/android.
Best ways not to get banned is to avoid using fake pokemon go third-party apps, spoofing location and not using emulators. Better stay away from Pokevision. PokeRadar, Tutuapp and other aiding alternatives. You may get soft bans sometimes, or you may be permanently banned from playing Pokemon GO. Try the below Pokevision like alternatives only  if you are not worried about getting banned from Niantic. You don't need to jailbreak iOS 9.3.3 to use these apps.
8 Pokévision alternatives for Android/iOS
Alternative#1: Poke Radar (Android/iOS/Web)
Alternative#2 : SkipLagged (iOS/Web)
SkipLagged is another alternative to go for, if pokevision site is down or not working.
iPad/iPhone/iPod touch users can download Skiplagged Catch That app
You can also make use of the web browser version to locate pokemon without moving using vivaldi browser.
Go radar is another Pokevision like app for iPhone 5S or iPhone 6S or 6S plus and iPad/iPod touch.
This tracking app can help you know about the rarest pokemon nearby without walking.
You can use this tracking app to locate pocket monsters without jailbreaking your device.
Your pokemon go account can get banned using this type of third-party apps.
Alternative#4: pmap.kuku.lu (Website)
Japanese users can make use of this website to easily locate pokemons without moving.
However, other can translate it using google translate service. Even on translation, some areas of the pokemon go map still use japanese laguage. It would be difficult to cope up with the translation. Players from Australia, USA and Newzealand may find it difficult to use this pokevision like website.
Alternative#5: Pokemesh Map (Android/Web)
Pokemeshmap app helps you locate rare pokemon like Magmar, Kabuto , Eevee.
 Android lollipop or marshamllow users can download Pokemesh map apk for free.
Using such third-party pokemon tracking apps can ban your Nintendi account. No one can help if your Pokemon Go account gets permanently banned.
FastPokeMap website is one of the sites like Pokevision
With it, you cannot locate pokemon throughout the world. It only locates nearby pokemon
You can try it if Pokemon go Nearby feature is not working or servers are down or Tutu app stops working.
Alternative#7: PokeNest (Web)
PokeNest is web based mapping app to locate a specific type of pokemon unlike pokevision.
It helps you with provide an area with high accuracy of finding a specific pokemon.
Alternative#8: PokeRev (Web)
PokeRev is web based service to locate PokeStops, Gyms, Wild and Nearby pokemon
You can trace pokemons like pokevision site with this web service
I hope that these 8 Pokevision alternatives for Android/iPad/iPod Touch helped you a lot. Please, share with us, if you come across any tips and tricks to catch pokemon without moving. Also, let us know, if your Pokemon account got banned, we can help you out.