Last modified on April 6th, 2019
How to send or receive money on WhatsApp: peer-to-peer money transfer through WhatsApp is a cake-walk now. Living in the era of digital payments, most of us must have used digital mode to make payment that can be anything like using credit/debit card, net banking, using digital wallets like PayTM or PayPal etc. It's okay even if you hadn't made any digital payment before. First things first, how to send/receive money using WhatsApp Payment UPI (Unified Payments Interface) ? How to add banks to WhatsApp payment?  Let's dig deep into step by step procedure to activate WhatsApp payment feature on android/iPhone.
If you are an WhatsApp user, you did had WhatsApp video calls or voice calls, send messages, files, pictures etc. But do you know you can even make payments using WhatsApp ! Without delay, I am going to show how to activate WhatsApp Payment feature send money through WhatsApp payment UPI.
WhatsApp introduced an option to make payments in the application itself. Whah! what a relief right, now you need not maintain other applications like Hands Free, Google Tez, PayTM Payments Bank for payments. Sounds great because you can save space too.  You can use just one application i.e. WhatsApp to do everything right from texting to money transfer. To rephrase it, once you activate WhatsApp Payment feature, you can send or receive money. If you are unable to find WhatsApp Payments option, please update to latest version to send money through WhatsApp.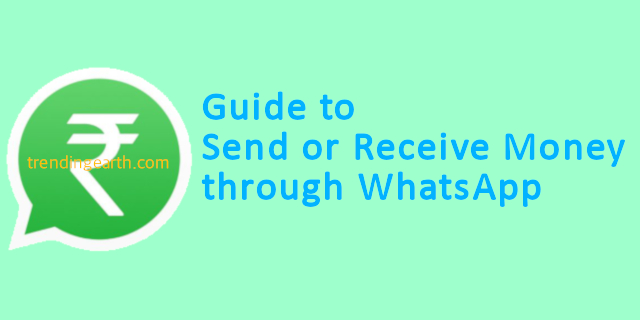 Requirements for WhatsApp Payment UPI to Send/Receive Money?
So how does this WhatsApp payment works? it makes use of UPI interface provided by Govt of India and Virtual Private Address(VPA). To activate WhatsApp Payment UPI, both sender and receiver must have latest WhatsApp version and must link their bank accounts to WhatsApp. Banks of both sender and receiver must have UPI support. If both sender and receiver banks are UPI enabled bank account to WhatsApp, then you can activate WhatsApp Payment and transfer a maximum amount of 1 lakh. Not only the stated transaction limits, but also, your WhatsApp phone number and bank registered phone number must be same. 
To summarise, requirements to activate WhatsApp Payment UPI on android/iPhone are –
Sender and Receiver must have latest WhatsApp Version. Otherwise, you cannot find WhatsApp Payment option on your android/iPhone.
Your active WhatsApp phone number and bank registered phone number must be same
Sender and Receiver's banks must support Unified Payments Interface(UPI). Don't worry, most of the banks do support UPI based payments.
How to Activate WhatsApp Payment UPI to Transfer Money?
Undeniably, WhatsApp has active customer base of 200 million in India. Without a doubt, generation Y is going gaga over its features like saving WhatsApp status videos to gallery , activating video calling feature etc.,  Until now, you can  add background music to status videos  and do free whatsApp video calls  to enthral your friends. Once you activate WhatsApp Payment feature, you can transfer money with transfer limit of 1 lakh INR per day. Maximum no.of WhatsApp payment transactions is 20 per day. So, you can send money through WhatsApp to maximum of 20 people with cumulative amount limit of one lakh rupees.
Want to increase WhatsApp Payment transaction limit? there is no better way than using 2 WhatsApp accounts in one android phone by downloading Parallel Space App. If  you are an iPhone you can install two WhatsApp accounts without Parallel Space using Watusi.
Steps to activate WhatsApp Payment Feature on Android
Without a delay, let's do first WhatsApp Payment. There are two main steps to activate WhatsApp payment and send money without VPA or IFSC code. 
Steps to verify and link bank account to WhatsApp on Android/iPhone
If you have already linked your bank account, checkout the steps to send money through WhatsApp to any contact.
Step#1: Click on add attachment button and then choose Payment option
Step#2: As you activating 

WhatsApp payment for the first time, it prompts you to select your bank by fetching list of all the available banks.

In case you do not find your bank name here, sorry you can't use WhatsApp payment right now, you can wait and check if your bank is added to the list later. Hard luck, you cannot activate your WhatsApp account.

Step#3: If prompted, verify your number to link your bank account to WhatsApp and activate payment feature. Why I need to verify my number again? hadn't  my WhatsApp number already verified. But here is a caveat, you know you can verify WhatsApp without sim, or it can be registered with one number which can be different from your current number. If prompted, you need to verify your WhatsApp number again. 
Caution:

Before you proceed with this step just make sure the number on which WhatsApp is registered and number associated with bank are same.



Step#4: After you do WhatsApp number verification, from the list of bank accounts associated with that mobile number , choose one.

Step#5: 

Once you complete these steps your WhatsApp payment setup is complete. You have linked your bank account to WhatsApp. 

Hurray! you are good to do your first payment. Also, you can request money through WhatsApp.
Steps to send money through WhatsApp
Since you know how to activate WhatsApp Payment, you can send money after you link your bank account. Keep in mind, that you can only send money through a  maximum of 20 transactions per day. Like other UPI based payment apps, maximum transaction limit for WhatsApp Payments is  1450 US Dollars (1 Lakh Indian Rupees).
Step#6: It's time to make your first payment, you can choose any contact to whom you want to pay


Oops!! If you see as shown, do not worry, the other person don't have a WhatsApp Payment account. You can  share this page link with him  or press notify button to let the person know. In the end no one in this world don't want to lose money, right ?





If the person has a WhatsApp payment account enabled, you see something like




You can either send them money or request for money through WhatsApp. 

We shall cover both these steps below.

Step#7: If you want to send money, enter the amount you want to send. Also,  you can add a beautiful message associated with that money transfer.


Once you enter the amount and proceed further, you will be redirected to UPI payment 

gateway where you need to enter UPI pin and complete the payment. 

Step#8: On successful completion of WhatsApp payment, you see 'complete' message.
Steps to Receive or request money from WhatsApp contact on Android/iPhone
Step#6: After you link bank account and activate WhatsApp Payments feature, you can even request money from your friends or family. Follow similar steps you have done for paying money, just select on request money option and enter the amount you wish for.
Step#7: As shown below, you get 'Waiting for payer' info, if you make a request for money and waiting for payment.
Step#8: Once they pay the money, you get  'request fulfilled' as shown, which would be a definite joy to watch.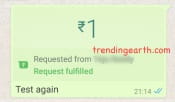 Read:
So friends this is a brief tutorial to activate WhatsApp payments feature in the new interface and get started. To check if your payment method is activated or not, you can verify by sending some money to your friend. As they say, a friend in need is a friend indeed, help your friends by sending money through WhatsApp. Keep in mind, the maximum transaction amount limit for WhatsApp pay is 1 lakh Indian rupees.
Feel free to comment and please do share with someone who wants to do WhatsApp payment.