Last modified on October 7th, 2018
Have you ever felt need to add background music to WhatsApp status? It could be Shape of You from Ed Sheeran or Romantic love song of Bollywood. One can inspire millions with audio WhatsApp status updates. In fact, you can add mp3 songs from your local gallery as audio status. Till now, one can set picture or video as status, with the help of creative techniques, we can add mp3 audio song as our WhatsApp status. We can set sad/exciting/jazz  songs as our status. Adding good music to our day's memories can express our emotional feelings to our WhatsApp status.
Every Android or iPhone user knows about  WhatsApp. The app is a revolution in messaging platforms, stealing hearts of billions of people with its awesome features. Some of them include  voice calling and WhatsApp video calling features. Status feature of the app lets you share your entire day's memories with world. Photo / Video / Audio Status updates get disappeared in 24 hours helping you cherish in terms of status privacy. We know how to add picture as status and set youtube video as whatsapp status update. It's cake walk for us, but, to put audio mp3 song as status, we need out-of the-box WhatsApp thinking. Don't worry, we are here to help you to set audio file as WhatsApp status update. We spill the beans on how to add background music to whatsapp status.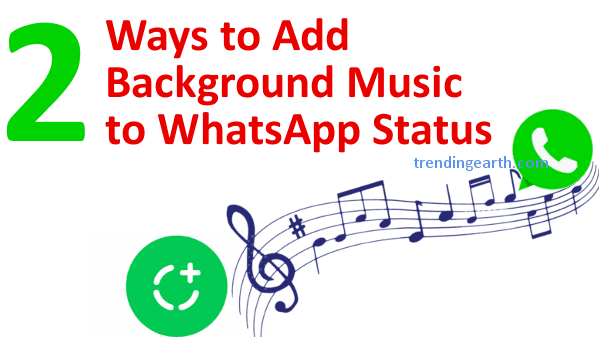 Fasten your seat belt  and grab your favorite mp3 music songs! we are now moving on to two creative ways to update our Whatsapp status with background music. You can also read how to pin favorite whatsapp chat of your girlfriend.
2 Methods to Add Audio on WhatsApp Status
Status updates are magic, if they are aided by compelling music. Posting your birthday celebration video is quite difficult with 30 seconds limit on WhatsApp status. Though you can use some tricks to post long status videos without rooting, millions of 30 sec WhatsApp status videos with awesome background music are available. Sometimes, we may wish to set only mp3 song as our status message for broke up girlfriend. Let's check out the two creative ways to upload/add background songs to our WhatsApp status. Before that, you may be interested to know how to delete sent whatsapp messages in an easy way.
Lazy to read the rest? You can watch how to add background music to whatsapp status with below youtube tutorial. The video explains naive and pro techniques to set audio as status.
Method#1 : Use Music Player [Naive Technique]
I hope, you all know how to record and post a video as WhatsApp status update. Sometimes, we want to add background music to whatsapp status video we are recording. It is annoying that WhatsApp don't have inbuilt feature to add music to WhatsApp status update. We can play mp3 song using the music player, while we are recording WhatsApp status video.
Steps to add background music to whatsapp status using Music Player
It's simple to record video using WhatsApp and the recording. This trick allows us to use the ability of audio recording of WhatsApp to add music to our video.
Open Music Player on your iphone/ Android and get ready to play the mp3 song we would like to add as  background music to our status
Ensure that we are using speakers of the phone, and not playing through wireless/wired headphones. Also, keep a paper or nice picture along with you to serve as a background for the status. You can use your walls of the room as background for audio status.
Play the song with full volume and open WhatsApp to update status using your favourite song
Go to status tab, and tap on camera icon on bottom right. We can tap for a photo or hold the button to record video.
Hold red-coloured record button and using nature/paper/wall as background, record video along with background music to set audio song as status update
When finished recording, preview the video status and once delighted with your work, set it as your status update.
Read how to record whatsapp video calls to save your video call memories into gallery on android and iphone.
Cons of using Music Player Technique
The technique works on lollipop/marshmallow/nougat and higher versions of android. Even iPhone users can also make use of this technique. However, It is difficult for us to control the music player while recording.
Even surrounding noises gets added to our status update
We get poor quality mp3 song getting posted as our status update
There is no need to root our android phone and no need to upgrade from lollipop to marshmallow.
Method#2 : Use Video Editor Apps [Pro Technique for Android]
The Naive technique lets us set audio song as background music for our video. However, we are compromising on quality and ease of control. We can use Video Editor Apps like VideoShow or InShot  to update whatsapp status with audio songs with pro-level quality. We provide you with step-by-step tutorial on how to make cute and romantic 30 sec whatsapp status videos using VideoShow app with custom audio.
If you know how to download whatsapp status stories using story saver apps like story saver, you can edit or add background music of whatsapp status using this method.
Steps to set music to whatsapp status using VideoShow App
Download and install VideoShow app from Playstore
Tap on Edit Video button to select any video or picture you want from the gallery. You can use multiple photos and videos to make beautiful WhatsApp status videos
Tap on Settings Tab on right bottom of the screen to set duration to 30 seconds as it is status limit of WhatsApp and press ok. You can check out how to post long status videos, if you wish.
Tap on Music Tab and press Tap to add music button and browse through favourite audio songs in gallery and pick one.
Press Add Music button. Make sure that the button on the top sound bar is on left as shown below. It means that , our video's earlier background music has been muted and we are using our best mp3 audio song for our Whatsapp status
Tap Export button on top right corner of screen to save the video to gallery. You can also export it directly to whatsapp status.
Voila! Done. You have successfully added your favorite song as background music to your whatsapp status video.
The procedure would be same for any other video editor apps as well. You can follow the above steps to upload audio song as whatsapp audio status.
I hope you like the two tricks to add  background music to whatsapp status on android lollipop / marshmallow/nougat. Even  iPhone users can set audio as status. If you face any troubles to use thus how-to tutorial, please, let me know in comments. Our trendingearth team can help you out.