Last modified on July 24th, 2016
Pokémon Go issues:   The trending augmented reality game is facing several problems. They include server authentication issues, battery draining very fast, unable to authenticate the trainer club account etc., Recently, most of the pokemon trainers are confronted with failed to get game data/player information from the pokemon go servers after login and complaining that the app failed to fetch game data from servers . Before proceeding further, you can download pokemon Go here, if you face "this item is not available in your country" and unable to login. FYI, the game is available in few countries like Australia, New Zealand, Germany,US. Solutions for the other problems is based upon the Pokémon go servers status.Major issues like unable to authenticate Player information, authorization of profiles are fixed in latest  Pokemongo update.
Check the step-by-step tutorial on how to hatch pokemon eggs easily. Make sure that you know the Best Internet privacy tips to play pokemon. Get the latest pokemon tips using tutorials on iFunbox. Invite your friends to play pokemon go on messenger apps like snapchat, whatsapp. 
This tutorial gets updated,  with the solutions for the Pokémon go problems from trainers across the world. Check the pokemon servers status as the first step to resolve the game issues. To login to the game, you must authenticate yourself with Google account/ trainer club account to play pokemon-go.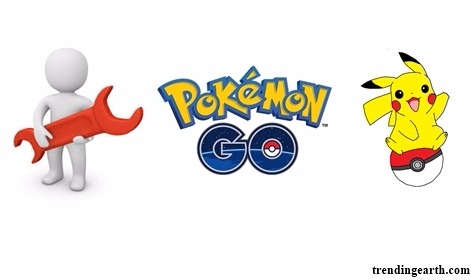 Read: Got an egg at PokeStop? learn how to hatch pokemon egg without walking
How to troubleshoot and fix  Pokemon Go game issues
Make sure that your Android/iOS device has GPS and rear camera features. Currently, the game doesn't support jailbroken devices. so, you may get the pokemon game unavailable issue. The game works well on Android 4.4+ to Android Marshmallow, It may not work on Android 7.0 nougat. Even iOS devices with iOS 8 and higher support the game on iPhones or iPads. Most of the users are facing unable to authenticate game problem on android. It can be fixed with pokemon go updates.
Issue#1: Unable to download the game
To troubleshoot this problem, ensure that the AR game is available in your country and your device is compatible to play pokemon go. Currently the game is available in Japan, Australia and New zealand, US.  If  you face this item is not available in your country , then you can check this guide to install pokemon go app on your iPhone/iPad/iPod Touch. Once you download the game, you need to create new account with credentials to login and play the game.
Issue#2: Unable to authenticate Trainer Club account
Pokemon Go provides you with two ways of login. One is with Google account and the other is Trainer Club account. Users who have signed in with google account to play pokemon go face no issues. While the trainer club account users are frustrated with this unable to authenticate pokemon go error. Game server status is the most likely reason for this login issue.
Log off your trainer club account and sign in with google account to fix this authentication problem. I'm sorry to say this, you need to start the game again with your first Pikachu after login . Your game progress is lost forever.
Issue#3: GPS signal not found
At nearby Multiplex pokestop, you may be notified about Charizard. You throw your pokeball to catch it, oops! GPS signal is lost. This is most awkward situation for a valor pokemon gym trainer. Yes, the game users are worried about the lost or inaccurate GPS signal suddenly. To fix this gps problem in iOS or Android, you must enable the high accuracy mode of GPS. Once done, you can play the game and attack other pokemon trainers. This also resolves failed to get location problem as well as failed to authenticate player information.
Issue#4: Pokemon Go battery draining fast
To experience the augmented reality game, you need to sacrifice your battery discharge rate. You know that, you need to run the app in foreground to get notified about the nearby Pocket monsters. It consumes lot of battery charge. However The game comes with battery saver mode.  Follow the steps to enable pokemon go battery saver mode.
Tap on the Pokeball at bottom of screen
Go to settings
Tick the battery saver checkbox, if unchecked.
You can adopt the best battery saving tips for your android/iPhone. The battery boosting tips can save some charge to throw pokeballs at your pocket monsters after you login. Adopt the tips if you feel that Pokemon Go battery saver mode is not working.
Issue#5: Servers busy/down
We cannot fix this issue, LOL. The game lovers  criticize servers not working. The app developers are trying their hard to provide an awesome gaming experience of Pokemon Go. However, the humongous response for the app is the root cause of turning the servers down.  The game servers are quite busy with million requests from across the world. Server side issues are a common in GPS based popular games unlike Candy Crush Jelly Saga, Temple Run etc., Game authentication failures during login also arise with the back-end pokemon-go servers.
Some of the other issues like failed to get player information/game data from game servers is not yet resolved. Few redditors said that you need to  sign into Pokemon Go account with GPS disabled and then enable the GPS to fix this unable to fetch pokemon Go data problem.
I hope that this troubleshooting guide helps you to fix pokemon go issues. Share this guide on facebook/twitter/Google+ to help your fellow friends to catch their pocket monsters. If you find other solution to any problem like authentication or face any problems while playing pokemon go, write to us. 
This is one of the finest guide  known solve pokemon go's  unable to authenticate problem, GPS and battery related things. Give your comments if you have fixed pokemon-go authentication issues using this troubleshooting guide.