Last modified on July 2nd, 2017
Methods to hack whatsapp account without knowledge: Whatsapp is the most widely used messaging app across the nations worldwide. It has a fanbase of over 1 billion. The latest whatsapp messenger 2017 app has several updated features like voice calling, video calling , emojis  etc., All the Android, iPhone, Microsoft, Blackberry and Nokia phone users are very familiar with the app. Latest version of the app include several security features like end-to-end encryption and whatsapp pinning feature. Anyhow, you can hack whatsapp account  on iphone/android with some tricks. Let's check if you can access the target phone and read the chat of your dearest ones.
You can now save WhatsApp Status Videos using Story Saver Apk to your Android/iPhone Gallery easily. You can also repost/copy WhatsApp status update of others using Story Saver Apk for WhatsApp.
Every  whatsapp user wish to read the chats of someone, he loves. Several hack techniques to spy on the whatsapp accounts of Android or iPhone are available. It's the human tendency that leads us to read the personal whatsapp chats. You can hack a whatsapp account using latest mac-spoofing APKs like Busybox, Terminal Emulator etc., can let you hack account of target android phone. The victim's whatsapp account can be on Lollipop, Marshmallow or even Nougat android phone. iPhone 6/6s/6S Plus whatsapp users can use WifiSpoof or MacDaddy X for spoofing mac address hack Whatsapp on iOS based iPhones. You need to download such mac-spoofing apps.
After reading this tutorial, you can able to hack/access the whatsapp account of anyone. However, you cannot access or hack their accounts without any verification code. During hacking, you need to have the victim's phone number and the physical access to the phone for one time for the activation code verification. Once you hack whatsapp account, you can read the chats, send/receive whatsapp messages.
Two available methods to access/hack  the account:
To send or receive whatsapp messages right from your Windows 10/8.1/7 PC or mac, you can install Desktop version of the app. To use onlinee whatsapp, check out manymo to use whatsapp without bluestacks or youwave.
2 Methods to Hack Whatsapp Account
You can access your target whatsapp account, say your Girl Friend's account in two methods. I will guide you the two techniques to access the android/iPhone and read the chat messages easily. Once you hack whatsapp account, you can also send or receive messages from the hacked account of the target.
Disclaimer: This article is just for informative purpose. This site/author is no way responsible for the misuse of this information.Proceed with your own interest.
Method#1 : hack Whatsapp account using MAC spoofing technique
In this method, you install apks like Busybox, Terminal emulator Spoofing apps for android lollipop or marshmallow phones. If you are using iPhone, you need to install Wifi spoof or Mac Daddy X apps to do MAC address spoofing. Once you have complete the spoofing technique, the target whatsapp account is hacked. You need to have your android gadget rooted to use this hack whatsapp  method. You can root android phone now, if you wish.
About MAC Address: Media Access Control address is the physical hardware address provided by the manufacturer of the network adapter. Usually, MAC addresses are 12 digit hexadecimal numbers. Ethernet, 802.11 Wireless networks, Bluetooth etc., on your electronic gadget have this unique address. You can change it using some available softwares like Busybox APK for Android. you can know more about this Hardware Address.
 Steps to Hack Whatsapp account using Mac-spoofing :
Step#1: First of all, uninstall the Whatsapp on your Android/iPhone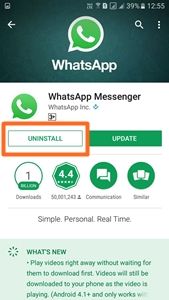 We are trying to hack the vicctim/target account on your phone. As a device can have only 1 whatsapp account, you need to uninstall your account.
If you wish to install second account on the same phone. You can try Parallel Space APK for android. If you are using iPhone Check Othman's app for iPhone, parallel space alternative.
Want your own account? then you can once again install whatsapp account from backup, once the hacking the account is done.
Ensure, your account is properly removed from your lollipop/marshmallow phone to ease the whatsapp hacking process
Step#2: Try to get access to the target phone for few minutes
You need to know the mac-address of the target phone on which the victim's whatsapp account is installed.
Make sure that the victim, say your GF won't realize that her phone is stolen for mac-spoofing, LOL.
Step#3: Identify the Mac address of the victim/target Phone
Whether the target whatsapp account  is on Android/iPhone/Blackberry or Windows Phone, you can find the address to hack whatsapp account.
Android : Settings :> About Phone :> Status :> Wi-Fi MAC Address
Windows Phone : Settings :> About :> More Info :> MAC Address
Blackberry : Options :> Device :> Device and Status Info :> WLAN  MAC
iPhone: Settings :> General :> About :> Wi-fi Address
Step#4: Identify the MAC address of your phone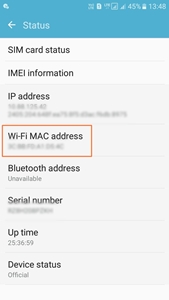 In the similar way, identify the MAC address of your android/iOS/Windows Phone/Blackberry device and store it somewhere, safely.
You need to retain your mac-address once you have hacked your friend's whatsapp account successfully.
Keeping your original MAC Address prevents issues with your internet connection.
Step#5: Install Spoofing related Apps on your phone
| | |
| --- | --- |
| Gadget | Apps |
| Android |  Busy Box , Android Emulator |
| iPhone / Others |  Mac Daddy X, WifiSpoof |
Step#6: Change your MAC address to that of Victim's
Once you install BusyBox Apk (on Android) or Mac Daddy X / Wifi Spoof, you need to change the address to access or hack whatsapp account.

Busybox apk download

Open the Android Emulator Terminal and type "ip link show" to list out the type of interfaces on your phone.

Android Terminal Emulator Apk download

Quickly, identify the one which has the MAC address , say 'eth0'

In the terminal, type  'ip link set eth0 address MM:MM:MM:SS:SS:SS' where MM:MM:MM:SS:SS:SS is victim's address. Press 'Enter'.
In the same terminal, type  'ip link set eth0 broadcast MM:MM:MM:SS:SS:SS' where MM:MM:MM:SS:SS:SS is victim's address. Press 'Enter' to complete fake spoofing.
You can cross check if you have successfully spoofed whatsapp account, by using 'ip link show eth0'. The command should show the target or Victim's address of phone you need to hack whatsapp account.
Step#7: Re-Install the latest Whatsapp apk version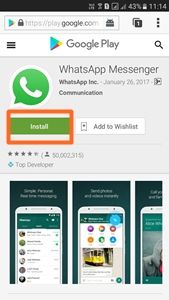 Now, after the spoofing of address is completed, you need to Install updated Whatsapp app on your android phone from Google Playstore or iPhone from iTunes Store.
During Whatsapp installation, enter the mobile number of the victim
Now, your phone has got target MAC address, but the verification code will be sent to the phone number sim on target phone. You cannot bypass the whatsapp verification code to hack whatsapp. Though you can activate account without verification, you need to access the target/Victim's phone.
Step#8: Get the activation verification Code 
Once you get the access to target phone, make note of the verification code and enter it on on your phone to hack whatsapp account of the target.
Delete the message on victim's phone after you have successfully completed hacking the whatsapp account.
Step#9: Revert your MAC address to your original address
Now that, you have successfully hacked the whatsapp account on target phone , you can send and receives messages from their account.
You can also read your girl friend's whatsapp chats without them knowing.
Using the steps above, change back your Phone's MAC address to initial address you saved.
Voila! using the above procedure, you can hack your buddy whatsapp account without their permission and read personal chats.
Method#2: Getting access to Friend's whatsapp account using Spying Apps
Mac spoofing technique to hack the account on target phone doesn't need any software/app installed on victim's phone. All you need is the one time confirmation/verification code on friend's phone number. In this technique, you need to install some spying apps to access whatsapp account without them knowing.
You can use this stealth method irrespective of the model your friend is using to hack whatsapp account. It may be Android Lollipop/Marshmallow/Nougat or iPhone. You can even hack Whatsapp account  even on a Windows Phone or Black berry phone.
Several Whatsapp android spying apps to tell 'who viewed your whatsapp profile' etc., are available on the Playstore. Some of them include 'Spy for Whatsapp', 'SpyPlus', 'Clone Whatsapp', 'CloneZap' etc., Most of android spying apks are not genuine to hack whatsapp account. 'SpyMaster Pro' and 'MySpy' are trust-worthy and reliable. You can use either SpyMaster Pro or MySpy. Even mLite Family tracker apk (earlier mSpy apk) is good.

Spying apps for iPhone 5, iPhone 5S , iPhone 6S or 6S Plus are available. They include iPhone Spy App, Contact Spy, Call Log Pro are available on iTunes store. Most of them are paid apps to spy several aspects, you need to pick the right one to spy or hack whatsapp account on iPhone 5/5S or iPhone 6 or 6S Plus. You can know more about the iphone spying apps here.
Update:You can use mspy premium app for this method to hack whatsapp account, it works on various platforms like iPhone, Android, windows Phone etc.,
Before installing the whatsapp spying software, read the reviews, rating of the app. Ensure that there is stealth mode in the app. Otherwise, the victim can easily detect the spying software on android or iPhone. You cannot spy the target whatsapp account without installing  any stealth apps on the targets.
As you cannot download MySpy apk (removed from store), you can try mLite Family tracker apk from the store
Check if any antivirus app is installed on victim's phone. Disable it, as it won't allowing spying/malicious programs to get installed to hack whatsapp account.
Follow the app settings onscreen instructions to complete the process to hack whatsapp account
Enable the stealth mode, if available on the Pro version or free spyware version
Know more Whatsapp/snapchat Tricks:
I hope the above two easy methods to hack the friend whatsapp account helps you to access personal chats. After hacking, you can send or receive whatsapp messages without access to their phone. You can read the chat messages without them  knowing using mac-spoofing and spying whatsapp methods. Please share this article, if you find it useful. If you have any troubles or issues while hacking the account of whatsapp messenger, Pls let us know. We will help you out with the hacking methods of whatsapp without issues.