Last modified on July 2nd, 2017
Install Whatsapp without number verification: Without internet and Whatsapp, techies suffocate. Whatsapp, Snapchat like messengers connects countries. Using Whatsapp with internet is a cakewalk. I will reveal 3 ways to use whatsapp without phone number verification or sim card. The latest messenger version app comes with end-to-end encryption to  prevent eavesdropping of whatsapp secret messages. This TE guide will work for Windows phone/android/iPhone whatsapp users. Trendingearth ensures that you stay updated with the latest whatsapp version updates. Connecting the global internet users has become possible with whatsapp. Read how to pin a whatsapp chat easily to keep your facorite whatsapp chat on top.
Have you read the secret WhatsApp guide to download status videos using story saver app?
Want to spy your girlfriend's whatsapp account and read personal chats? You can now access the personal chats without target phone using some hacking techniques. Check out how to hack girlfriend whatsapp account using this guide.
Also Read: How to activate same whatsapp account on multiple phones in easy steps.
Want to use second whatsapp or clash of clans account on same phone? then try parallel space multi-accounts app. This app will let you use second whatsapp/instagram/snapchat accounts on same phone. Check out snapchat alternatives to know social messagings apps similar to Snapchat. You can know save snapchat snaps without them knowing.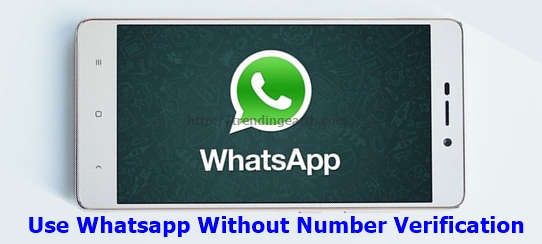 3 Ways to install Whatsapp without number verification / sim card
To use whatsapp without sim verification, you need to follow the below steps. These steps varies slightly if you are using iPhone. We must be proactive, while executing the below steps to install whatsapp messenger without phone number. To use the messenger without number verification, you need to install some fake apps. Before that, ensure that you completed below steps to use whatsapp without verification.
Delete/uninstall your whatsapp account on your android/iPhone/Windows phone.
Download the latest version of whatsapp from official whatsapp site. You will be provided with latest version of whatsapp apk if you visit the link with android phone.
Install the  latest Whatsapp  version.Before you tap Agree and Continue,  you must be quick enough to keep your phone in Airplane Mode. This is the crucial step to install whatsapp without phone number verification.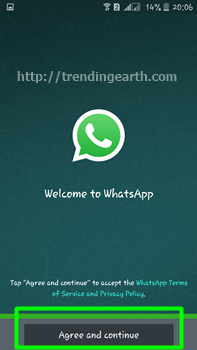 After you agree their conditions, you immediately switch your android/iPhone to Airplane mode
Then, You will be asked to activate whatsapp with SMS and internet email address.
You need to tap on Submit and then Cancel  in a wink of eye.
Check how to turn on airplane mode in iPhone or enable airplane mode in Android Lollipop/marshmallow phone.
Method#1: Install Whatsapp without number using Textnow App
In this method to use whatsapp messenger without sim verification, you need to install Textnow app on your android/ iPhone or windows phone. Using the Textnow number, you can install whatsapp without simcard. You need to have internet connectivity over wifi.
Download Textnow app for your iPhone/Android/Windows phone.
After installation, you will be provided with a Textnow number
We will use this number to run whatsapp without sim card.
While setting up the whatsapp account, provide this Textnow number for verification.
Then, wait for 5 minutes for the Whatsapp sms verification to fail.
You will be asked to verify your Whatsapp account via Call. Tap on the Call Me verification method
You will get  a call for the Textnow number, enter the interactive voice response Whatsapp verification code provided.
Voila, you have installed whatsapp without sim using internet.
We will look the other alternative ways to run whatsapp without number.
Method#2: Install Whatsapp without number verification
This method involves installing some fake messenger apps on your android/iPhone.
if you want to use whatsapp on iPhone, download this app to verify account.
if you are using android lollipop/marshamallow, try Spoof Text App.
Using this apps, do false whatsapp verification as per the below details

From: + (country code) (mobile number)
To: +447900347295
Body: your email address

Then, you will get a verification code to install whatsapp without number verification.
Use that code to start Whatsapp-ing without sim.
Method#3: Install Whatsapp without mobile number 
This method means that you can verify your whatapp account using landline number. You can provide the landline number, if you have to activate whatsapp without sim. The Whatsapp sms verification fails,as you have provides landline number. Then, opt for whatsapp call verification method to verify the account.
Update(19-Jul-2016): Whatsapp activation by landline number stopped working, recently. Most users are complaining that they cannot activate whatsapp by method-3.
If you wish to mirror whatsapp on to Windows 10 or Mac, try the latest Vysor app for Windows 10. You can mirror your android screen running whatsapp or snapchat apps to PC and control your android apps from PC. Vysor app needs Google chrome browser on the PC. Vysor Chrome app makes you use your snapchat to save snaps on computer/laptop.
Post any issues/problems you face to install whatsapp without number verification  in comments.Our Trendingearth team will help you to fix the whatsapp installation errors.