Last modified on October 3rd, 2018
Have you ever wished to mirror Android screen on to PC? Several screen mirroring apps such as Vysor Chrome app for android lets you do so. Some times, we tend to control android from windows laptop or a Mac without rooting. Vysor app lets you cast android screen to PC/laptop and allows you to control phone/tablet from your Computer using USB. Yes, you read it right! You can use snapchat on Windows PC using Vysor app with USB cable. Vysor app works on Mac as well as Linux too. Even you can remotely control android phone using internet and Vysor app. Vysor casts android screen irrespective of its version like Marshmallow or Lollipop.
Facing Samsung Account Session Expired popup issue? It is very sad that you haven't read 3 easy solutions for samsung account session expired popup removal. Following the guide, you can stop getting annoying samsung account notification on samsung galaxy S8, S9 on nougat and marshmallow phones.
Android screen mirroring can be wired (USB cabled) or Wireless (Wifi). This guide will help you to operate android phone from a Windows PC using a USB Cable and Vysor app. After some tweaks, you can mirror and control your Android smartphone running marshmallow or Lollipop from Windows 10 PC. This guide will work even for MAC or Linux users. However, some steps will differ. 

Steps to do Android Screen Mirroring using Vysor app on Windows PC
Why should I go for Android Screen Mirroring or screencasting? Sometimes, you may desire to controls apps like whatsapp messenger or Snapchat from your Laptop or Windows PC/Mac. You can use Whatsapp Desktop app to run Whatsapp on PC.But to use Snapchat on PC, there is no such alternative. In such cases, Vysor app will come handy. With Vysor, you can control your android phone/tablet remotely without rooting your android. Vysor is exclusively designed for Developers. You need to have Google Chrome browser to use Vysor app and do screen-mirroring.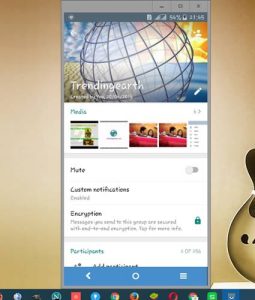 Things needed to Mirror your Android Phone Screen via USB
Android Device (Kitkat/Lollipop/Marshmallow)
Google Chrome Browser installed on the Windows 10/8.1/7 Laptop
USB Cable
Procedure to cast phone screen to computer via USB
Install Google Chrome on the computer/laptop running Windows or Mac OS or Linux. Vysor is basically a Chrome app designed to ease the process of Android app development. But, we are leveraging it to mirror android screen and control android from PC.
Install Vysor Chrome app from Google Chrome Webstore or visit official site to get the Vysor Chrome app.

Windows 10/8.1/7 users need Android Debug Bridge (ADB) drivers  to run the Vysor app and mirror android screen to PC. Download them to control android from PC/laptop via USB without rooting.

run the Vysor Chrome app from Google App Launcher in Windows 10 PC.
Make sure that  USB Debugging is enabled on the device. Check out how to enable USB debugging mode in Lollipop phones.
Now, using the USB cable, connect your android Lollipop or marshmallow phone to Windows 10 PC. Vysor Chrome app automatically shows list of android devices connected. Click the view button across the desired gadget, which you would like to do android mirroring or screen casting and control the android phone from Windows PC without rooting the gadget.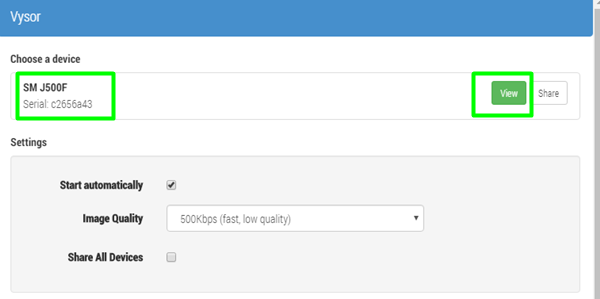 Using Vysor Chrome app Pro version, In addition to mirror-control android phone, take screenshots, You can copy files, do high quality screen mirroring. With recent update, Vysor lets you mirror multiple android screens at a time.
I hope that you can try Vysor to cast android screen and control android smartphone from Windows PC. You can also run apps like snapchat or whatsapp on your Windows PC using Vysor.  If you face any problems in screen mirroring using Vysor Chrome app, let us know.Our problem solving trendingearth team, help you resolve your android screen-mirroring problems and control your android phone from PC.