Last modified on December 31st, 2017
Whatsapp rolls out Pinned Chat Feature update: Have you ever been irritated with the uninterrupted group chat notifications in whatsapp? Mute feature of the app sooth our headache up-to some extent. Latest update  allows you to pin upto 3 favourite chats to top. You can pin favorite conversation so that the pinned whatsapp chat always on top of the list. This helps you access your favorite pin whatsapp chat easily.
The pinned chats feature has already out for Android lollipop/nougat or marshmallow users. iOS users need to wait for the update to pin whatsapp messages. Future updates may include awaited un-send feature. Whatsapp unsend feature can be handy in wrong times.
What is pin in whatsapp?  It's like bookmarking a url on vivaldi web browser for fast access. You need to update your messenger version with the latest whatsapp update to use the pinning feature. The makers are also developing unsend feature in whatsapp. The feature lets you revert your sent message and delete within a certain time.
How to Pin a chat in Whatsapp
The green messenger app connects over a billion people across the world. Recently, launched video call update received tremendous response from its users. From the early days of its era, whatsapp has launched several features like free voice calling, Whatsapp web version, desktop app etc., Now, the app  has added pin a chat feature. It's so easy to pin whatsapp chat/message to the top of your favourite chat. As of Now, you can only pin 3 whatsapp conversations, after account activation.
You can now save whatsapp stories to gallery without rooting. You can also post long status videos exceeding 30 seconds limit.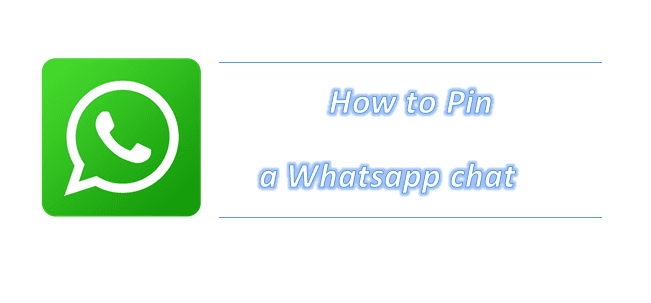 how to pin whatsapp chat to top
Update whatsapp to latest version from playstore or iTunes. If you are a newbie, you can install the app without number verification. Some of the verification methods is obsolete now.
Activating the whatsapp include your acceptance to T&C. Check out more about whatsapp's sharing data with facebook.
Press and hold the chat or whatsapp message you want to pin. You can now get the pin icon on the top right of the screen. Tapping on the whatsapp pin icon, your whatsapp message is pinned.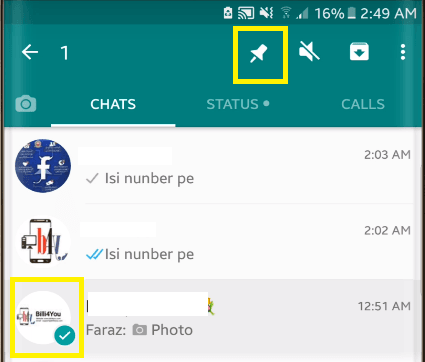 You can also unpin whatsapp chat in the same way. Besides pinning chat, you can also mute a group chat or archive a chat.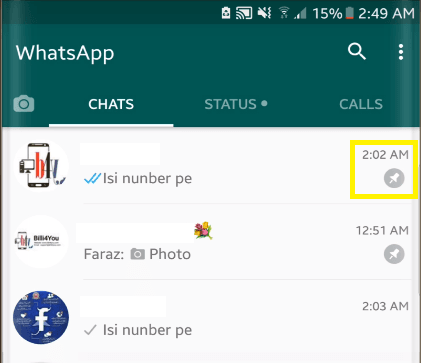 After you pin whatsapp chat, the chat appears top in the conversation list. Likewise, you can pin upto  3 chats to top. Pinning lets you prioritise a chat over the other.  You can checkout hacking tutorial for whatsapp. You can now track whatsapp messages using android spy app. You can also delete whatsapp sent messages permanently.
I hope this tutorial on how to pin whatsapp chat on android or iOS  is really helpful. Now, starting pinning favorite whatsapp chat and save your valuable time with this handy whatsapp pin chat feature.