Last modified on July 20th, 2016
Pokemon-Go Tips: The game is a huge hit in Australia, US and going to release in Japan, India, probably. Got an egg at a Pokestore? And don't know how to incubate an Poke egg in incubator to hatch a Meowth/Electabuzz? In this Pokemon-go guide, I make you incubate a poke egg in an incubator. Once, you place an egg in incubator, you need to walk 2/5/10 km to get it hatched. The distance is related with the type of egg you have got and the CP of to-be pokemon. Some pokemon-go trainers are searching for ways to hatch poke eggs without walking/moving. Though, some ways do exist from redditors to hatch eggs, you need to walk to feel the gist of the game.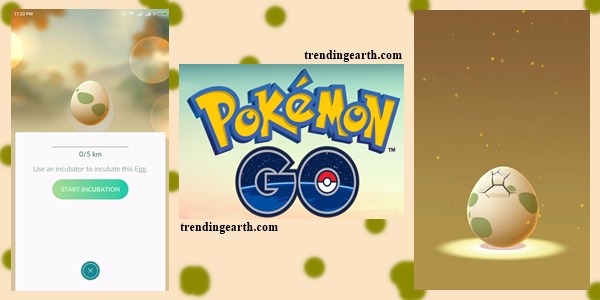 Are you facing the Pokemon Go authentication issue on logging in? Check out the ways to fix pokemon-go login or authentication issues and other problems
Follow the rest of the tutorial on how to hatch a pokemon egg in an incubator. Make use of the attached images to make the process easy. 
How to incubate a Pokemon Go egg
To incubate an egg, you need to get it first. You can get an egg at pokestore as free item. You need to hatch the eggs obtained in an incubator by walking or moving. With distance as a parameter, pokemons vary from Clefairy, Bulbasaur, Squirtle  to most-rare Meowth, Snorlax and Lapras. In the very beginning, Pokemon Go provides you with a single incubator to hatch unlimited eggs, one at a time. You can shop for more incubators to hatch pokemon eggs faster with walking or get more game XP on clearing levels. However, you can only incubate 3 eggs with such bought/XP based incubators. You need to walk to get  a pokemon from egg legitimately.
Tap on the big Pokeball on the game screen

Tap on the  Pokemon icon on bottom left of the screen


Press and hold any unincubated egg.
You will be prompted to start incubation

All the available pokemon go incubators are shown on the screen.
Pick an incubator of your choice from the list and done

Now, You need to walk to hatch the poke egg.

Pokemons you get :
for 2 kilometer-walk :> Clefairy, Bulbasaur, Squirtle, Charmander, Jigglypuff, Pikachu, Geodude etc.,
for 5 kilometer-walk :> Kangaskhan, Tauros, Tangela, Porygon, Lickitung, Pnytha, Growlithe etc.,
for 10 kilometer-walk :> Snorlax, Lapras, Magmar, Aerodactyl, Pinsir, Electabuzz, Scyther etc.,
Pokemon Eggs – Tips :
Keep your pokemon GO app open while walking. Otherwise, the distance you cover to hatch eggs goes in vain.
The more you must walk for an egg, breeds the more rarer pokemon like Snorlax or Lapras
An incubator can hatch only one egg at a time with walking. To hatch eggs faster, you may buy incubators or clear more game levels to earn some.
Save battery power by enabling pokemon go battery saver or using battery saving tips.
Lazybones ask for ways to hatch eggs faster without walking. I plead you to walk as hard earned pokemons get you the real experience of playing the game. I hope that this pokemon guide helps you to hatch poke eggs in incubator by walking/moving.