Last modified on July 28th, 2016
How to fix Prisma over capacity problem :  Millions of Android and iOS users already addicted to AI based photo-editing app, Prisma. The app received a voluminous downloads on Google Play and iTunes Store, like Pokemon GO. On the other side of the coin, the app is not working smoothly. Because of the server issues, filters of prisma are not working fast. The fan-base of prisma is facing overcapacity server issues. The triangular icon keeps creating artwork on server end and the app gets freezed on Android and iPad/iPhone.
Recently, popular Pokemon GO also faced server not working issues. But, I solved my pokemon GO issues and incubated pokemon eggs. Similar is the case with server issues of prisma.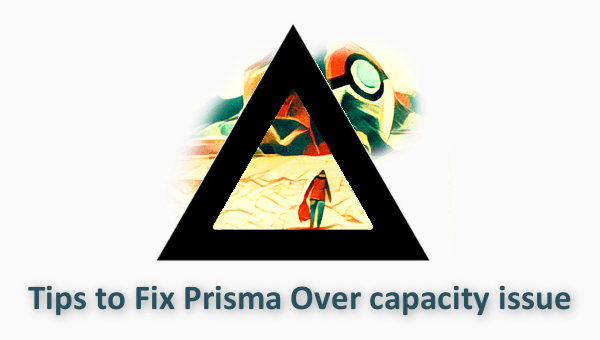 In this tutorial, I provide you with some tips to avoid and fix prisma over-capacity server issues. Besides, I let you know about tricks to reduce filters processing time and troubleshoot time out issues. Also, this guide helps you out from app's freezing issues.
Tips to Fix Prisma Over capacity Problems
Of-late, everyone tries to pose for a selfie and it's in-vogue. This ubiquitous nature of humans is minting money for Prisma App. The Photo editing app for Android and iOS based iPad/iPhone comes with beautiful and unique filters. Though, you download and install prisma for android/iPhone and try it, and gets annoyed with "over capacity problem". Each time, you try to Prisma-ize a photo, the photo gets uploaded to the app's server. Filters are then applied using Artificial Intelligence. Millions of users are facing time-out and freezing issues with Prisma.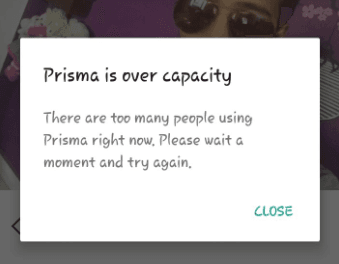 Follow the below fabulous tips to troubleshoot overcapacity-prisma not working problem. You can make the slow prisma filters work fast and smoothly. These tips work for android or iOS based iPhone/iPad users.
Tip#1 : Hook up with High Speed Wifi

You must be connected to high speed internet like 3G/4G. Your HD photo must reach server to get processed by Prisma Filters. The photo editing app, then makes sketches out of your photos using server side algorithms. Otherwise, you face prisma's over-capacity issue. Ensure that you are aware of internet safety tips before you use prisma.
Tip#2  : Use Optimized images to get Prisma-zed

To create prisma artworks without freezing, you need to upload an optimized image. I mean, you apply the filters after using some image-size reducing algorithms. Simply put, before you use prisma, use compressor.io to compress your image size without compromising in quality. So, you can make filters work fast using this compressed images. This tip solves prisma freezing issue and makes filters work smoothly.
Tip#3 : Stay on Prisma App

To avoid freezing problem in the app, you should stay on the app till the artwork is completed. If you switch to any other app on your android/iPhone, you face "creating artwork" issue with freezing. Staying on the app also makes use of your internet efficiently and fix over capacity problem of prisma.
Tip#4 : Disable 'Save artworks automatically' feature

Disabling this feature on prisma, improved  the processing time a bit. You can try this to reduce server side overcapacity problems.
Launch Prisma app
Tap on the settings gear icon
Uncheck the feature, if checked.
Apart from the above tips, you can also use prisma on PC using bluestacks app player to avoid common issues with the app. Share your prisma-zed photos on whatsapp, snapchat and other messengers. Currently, the app has its in-built instagram sharing feature.
I hope that the above tips to fix over capacity issue of Prisma servers helps you. Share with the best filters you like in the app through comments. Inform us with any other methods/ways to fix the freezing issue in prisma on Android/iPhone.