Last modified on July 31st, 2016
Upgrade Android Kitkat to Lollipop: Android N is not yet released, but you can upgrade from android kitkat 4.4.2 to Lollipop / marshmallow till then.Android N release date is not yet announced. Android updates say Android N name can be Android N 7.0 Nutella or Nougat like marshmallow. Google may take consensus to decide Android N name before Android N release date. Android Lollipop features lure Kitkat users to upgrade from android kitkat 4.4.2 to 5.0/5.1. Let's check out the luring Lollipop features forcing us to upgrade from android kitkat to lollipop.
Read:
How to install parallel space app to use two clash of clans or whatsapp accounts on same phone
How to see your android phone screen on windows laptop easily using Vysor app.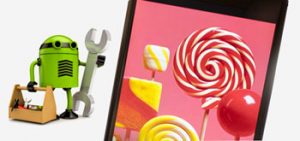 6 reasons to upgrade Android Kitkat to Lollipop
Tap & Go Lollipop feature
On updating from Android Kitkat to lollipop, Tap & Go lollipop feature will be available. with this feature of lollipop, you can sync all your files from old kitkat phone to new lollipop phone. When you upgrade android version to lollipop, these lollipop features can be used by kitkat users. Some Nexus users are facing Tap & Go not working problem.Hope that it solves if you upgrade lollipop to marshmallow.
check how to solve Tap and Go not working nexus problem.
Powerful search Lollipop feature
With Android version upgrades, complexity of settings too rose. It's a tedious task to look for specific Android setting. If you upgrade from android 4.4.2 to 5.0 Lollipop, powerful search lollipop feature comes into play. With this lollipop feature, any user can get any settings with a single tap. It's like 'Search settings engine' for android lollipop. Even marshmallow is also expected to have same lollipop feature after marshmallow upgrade.
Lollipop Cast Screen Feature
After you upgrade android kitkat to lollipop, one can use Cast Screen Lollipop feature. With this feature, one can stream the web conent on your Android device running Android Lollipop/marshmallow/Android N  to TVs using adapters like Chromecast. So, you can use castscreen feature, if you upgrade from android kitkat 4.4.2 to lollipop.
How to use cast screen in android lollipop?
Swipe down on Lollipop screen to get notification menu, you can find cast screen icon
Tap on the cast screen icon, to get of nearby chromecast devices list
Choose your chromecast to mirror your android Lollipop screen to TV
This cast screen feature is exclusively upgrade from android kitkat to lollipop. This Lollipop feature will be available in Marshmallow/ Android L Nutella or Nougat.
Real-time Battery Indicator
Android versions till kitkat 4.4.2 used to show battery life in percentage. After the upgrade of kitkat 4.4.2 to lollipop /marshamllow/ Android N, real-time battery indicator has its role. This lollipop feature also has battery saver option in its toolkit. If you compare Lollipop vs Kitkat battery life, I bet that Lollipop manages battery drain efficiently. Upgrade android version from kitkat to lollipop to get real-time battery indicator lollipop feature.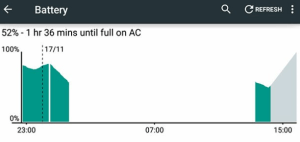 check out how to stop battery draining fast after lollipop/marshmallow update from kitkat.
In-built Flash Light App
Android Lollipop update brings with it, an in-built flash light app. Till now, Android kitkat are using third-party apps  on google play store. Best android kitkat flashlight apps include Flashlight by SimGears, Privacy Flashlight , Color Flashlight etc.,. Keeping this in view, Lollipop features in-built flash light app. So, quickly upgrade from android kitkat 4.4.2 to 5.0/5.1. Android Marshmallow/Android N shall also come with this feature. Let's wait till the Android N name and release date is announced.
 Screen Pinning Feature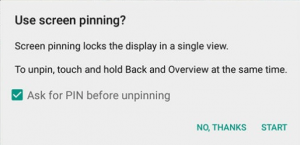 On upgrading android version to lollipop from kitkat, an useful screen pinning feature comes. This screen pinning feature will allows an android app to stay  on screen like "always on top feature in unix". This lollipop feature is useful when your kid wants to play childish android apps on your Nexus 6P. Check out how to enable or disable screen pinning of an android app.
check out reasons to upgrade from lollipop to marshmallow  and Lollipop Vs marshmallow
Need to install second whatsapp account without sim on single android Lollipop/marshmallow phone? You can now install parallel space multi accounts app to run dual whatsapp/instagram accounts on same phone.
Above six android lollipop features lure us to upgrade from android 4.4.2 to 5.0. Wait for few more days to upgrade lollipop to Android N.Apart from them, trusted devices, App priorities add to lollipop features list. Quickly upgrade android kitkat to Lollipop / marshmallow.