Last modified on October 3rd, 2018
Samsung galaxy users are complaining "session expired for samsung account" issue. Samsung galaxy phones are known for sleek design and loud explosions as well. Galaxy S8 and S9 phones are in news as exploding phones. Parking the issue aside, Samsung Galaxy S8, S9 phones running on Android Nougat or marshmallow have this new bug. Never faced it on your galaxy phone?  You get a popup notification with "Samsung Account Session Expired" if you have upgraded to marshmallow or nougat using OTA, recently. If it keeps popping up, Read the rest of the tutorial to fix Samsung Account session expired issue, to remove annoying  popup notification. This also solves samsung account authentication expired problem.
Ok, now, I got the session expired issue? What's in There? I can login to my samsung account with my registered mail and password. The problem is fixed, isn't it? No. The  account session expired popup notification keeps popping up every now and then. How annoying it is , if you are playing PUBG or Real Cricket 2018 on Android marshmallow or Android phone. This is due to samsung authentication failure problem.
If you are playing pokemon go on your samsung galaxy S8 android phone, you might be facing authentication issues. Read guide to fix pokemon go authentication issues.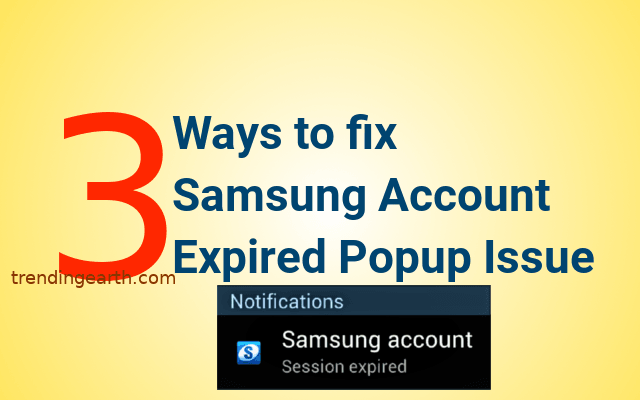 Well, If you are using Samsung Galaxy S8,  S9 plus on android nougat and marshmallow, you could be facing samsung account session expired popup as shown. We are now going to fix the common session expired issue on samsung phones. If you want to mirror android screen from your samsung device, check mirror android screen guide. Android screen mirroring can help you watch favorite movies on computer from phone.
3 Methods to fix Samsung Account Session expired Issue
This session expired error is most common in Android nougat and marshmallow releases. It is a common samsung account issue on galaxy S8, S9, S9 Plus and even Edge versions. Mainly, the problem arises due to sync-related issues in android 6.0/7.0 with samsung account. We are sharing three ways to fix Samsung Account Session Expired notification  keeps popping up problem on Trendingearth.
Method-1: Cancelling Samsung Account Sync
This method to fix the account session issue is applicable for devices, which were using Android kitkat or Lollipop and other old versions of android. Even if you are on old samsung phone, you can try this method. Samsung Galaxy J5 and J7 models fall under this category. We need to cancel account sync to fix Samsung Account Session expired problem.
Steps to cancel Account sync on samsung devices –
Go to Settings : > Accounts on the device
On the screen, scroll down to Samsung Account and tap on it, if you are using one.
On the next screen bottom, you can find Cancel Sync button. Click on it.
Wait for some moments, till you see 'Sync Cancelled' message
Now, Just reboot your device and check if you see Account session expired notification again.
Enter your samsung email and password to login successfully.
Voila! you have successfully resolved Samsung Account session error.
Method-2: Disable Auto Sync / Close Account  (Android Marshmallow / Nougat / Oreo)
If you are on samsung marshmallow or nougat, you can use this method to fix the session expired error. Most of the times, Galaxy S8, S9 plus comes flag shipped with nougat or Oreo. So, you cannot find cancel sync option to fix samsung account problem. You need to disable auto sync or  remove account to avoid expired popup bothering you.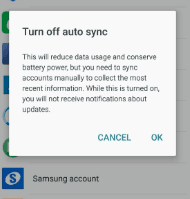 Steps to disable auto sync on samsung devices –
Go to Settings : > Accounts on the device
If you have logged in to your account, Now click on Disable Auto Sync.
You can try Sync All and Reboot your device to see if Samsung Account Session Expired issue resolved.
Otherwise, remove samsung account permanently, if you wish. However, you may not be able to retrieve your settings and other info of your samsung apps in future.
Method-3: 
Login to Samsung Account from Computer
We also observed that, we can get rid of account-session expired notification by logging in from computer. You may think crazy, how come the issue got resolved. Follow the below steps to remove samsung account session expired notification on android phones. You can use this method irrespective of phone you are using, it can be samsung galaxy S8, S9 or even edge.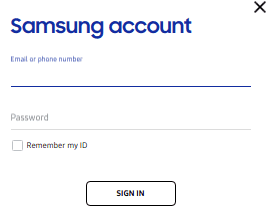 Enter email and password credentials and click sign in button
You can close the tab and carry on with your watching your favorite movies or Game of Thrones Season 8.
If 

Samsung Account Session Expired

 popup notification pops again on your android phone, login using credentials.
Hurray! now the problem gets resolved completely.
I hope the any one of the above 3 methods helps you to fix samsung account session expired popup issue. I have tested the above methods on samsung galaxy S8 running marshmallow and S9 with nougat 7.0. I removed annoying popup notifications easily. If you are facing any issues to fix the samsung account sync issue, let us know.