Last modified on July 23rd, 2016
Pokemon-go Tips: You get PokeEggs as free items at PokeStops, if you swivel the DPs. Now, you can easily hatch pokemon eggs without walking/moving. If you are a couch potato or don't want to move out to hatch PokeEggs using incubator. Pokemon Go is causing ripples with Pokeballs, PokeStops, Lure Modules, Incense, Poke Eggs etc., The game has released its japanese version recently, launching first time in Asian countries. Even though Indian and other countries' version of the game is not out yet, the AR game has a huge fan base in India, China and other asian countries.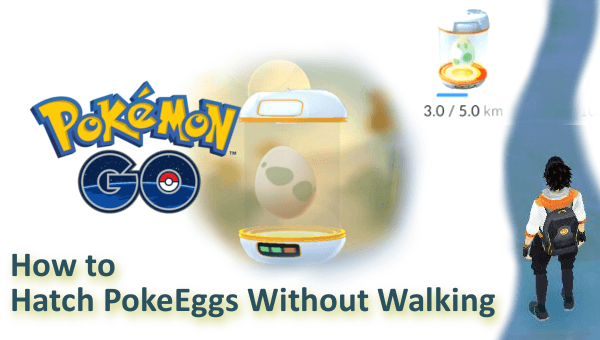 In this tutorial, I provide you with some tricks to hatch pokemon eggs faster with no walk. I recommend you to walk to incubate poke eggs as to get some physical exercise. A brisk walk for pocket monsters can help your fitness and improve your health. Some of these tips do work to play Pokemon GO without moving/walking.
How to Hatch Pokemon Eggs Without Walking
Trainers do know that they need an army of Pokemons like Mewtwo, Rattata, Ponyta etc., to win Gyms. So, the game players look for easy and quick ways to catch pokemons. Even Niantic and Nintendo knows this and so came up with PokeEggs with. Several other alternatives to catch pocket monsters easily like Lure Module, Incense etc., have been provided with. Desire has no extremes, so, some geeks have figured out quick methods and pokemon tricks to breed the rare pokemons like Jynx, Kabuto,  Dratini and others. I have listed out the best pokemon tips to hatch pokemon eggs faster without any walk or movement.
Before trying to use the below tips to quickly hatch eggs in incubator, ensure that you have a pokemon egg in incubator. PokeEggs are distance-specific like 2km, 5km and 10km. So, you need to walk minimum two kilometers to hatch egg from incubator. The more the distance, the rarer the pocket monster.
 Tip#1 : Get a Roomba/DJ disk player
To measure the distance for hatching eggs, the GO app uses the movement of your Android/iDevice. You can use rotating disks/devices/tools to decieve the game. You can look for a Roomba or any other means. A Roomba? what is it? A Roomba is nothing but a trademarked autonomous vacuum cleaner with sensors. Simply put, a miniature robot vacuum cleaner. We can use such devices to feed motion to the incubator and hatch eggs quickly.
Make sure your Pokemon GO is up and running with no login issues. Then place your smartphone on the rotating device like a disk player. Turn on the disk player/turntable and done. Your walked distance keeps on increasing and you can hatch pokemon eggs faster with this trick. Don't let the device spin at higher speeds, This trick won't work because of the game's design for speed's threshold.
Tip#2 : Use a Drone and Mirroring technique
The trick of using  a Roomba or turntable can work fine to hatch 2Km eggs. The rotation trick takes a lot of time to hatch 5 km or 10 Km PokeEggs. If you have some bucks and is a tech geek, then you can try Drone and Mirroring technique to play Pokemon GO without walking.
You need to attach your smartphone with Pokemon Go up and running to a drone. You can control the drone's movement right from your home. You can view your device's screen using screen-mirroring technique. You can choose mirroring applications like AirDroid.  Check out how to install and configure AirDroid to hatch eggs faster.
Tip#3: Let your Pet do Walking
Got a Labrador or German Shepherd? You can then tape your smartphone to your pet. Usually, pets roam around in the home and so your phone do. While you watch GoT Battle of Bastards on your iPad or Mac, your Pokemon eggs start incubating faster with no walking. But, make sure that your iPhone 6S plus don't get damaged with this Pokemon trick.
Tip#4: Find a trust-worthy Jogger
If you have a trusted friend, who jogs everyday in morning, then you are lucky. You can ask your trust-worthy jogger to carry your Pokemon Go device with him/her. This is the best way to hatch your Pokemon eggs without moving an inch. This is also a legitimate method to get top rarest pokemons like Mewtwo, Snorlax, Magmar and Kabuto.
While you keep gaining fat under your belly, your friend get fit and healthy with your Fitness app.  Do throw a party for your friend who brought the Snorlax  to your home after jogging.
I hope the above pokemon GO tricks to hatch eggs faster gave you some crazy ideas to get the pocket monsters without walking 2km, 5km and 10 km. If you like the ideas, do share with your friends and fight your Gym battles. If you got any related tricks to breed PokeEggs faster, let our trendingearth team know through your comments.
Happy Hatching!